Home improvement super stores and new materials and technology have made giving your bathroom decor an update easier than ever. Aside from a fresh coat of paint, the most economical and a simplest way to do that is with new lighting. Below I've provided several examples of lighting styles you might consider when tackling that bathroom remodeling.
In this example simple glass pendant lighting positioned over vessel sinks provides warm uniform lighting particularly when combined with the soft brown towns and beige porcelain tile. From Bathroom Design Ideas.
Disregarding the ridiculous size of this bathroom, a series of well sconce lamps surrounding the mirror and vanity provides ample lighting for your morning or evening preparations. From Bed & Bath Ideas
This is really over the top and reminds me of some future scifi movie theme.  However I'm inlcuding it because of the interesting uses of wall sconces and recessed floor lighting, along with pendant lights.
A very interesting, clean white tile theme which is accented four champagne pendant lamps over a stainless steel vanity.  I'm not a fan of stainless steel in a bathroom, but I do like the lamps.
I prefer a warm cozy bathroom for soaking in a tub, but I do like this simple and efficient style for a guest bathroom vanity.  The glass globe pendant lights really complement the vessel sink and contemporary plumbing fixtures. From Interior Decorations.
Another great use of contemporary materials and unique lamp stylings for a fresh bathroom remodel.  The vanity's combination of wood, granite, and stainless steel is interesting.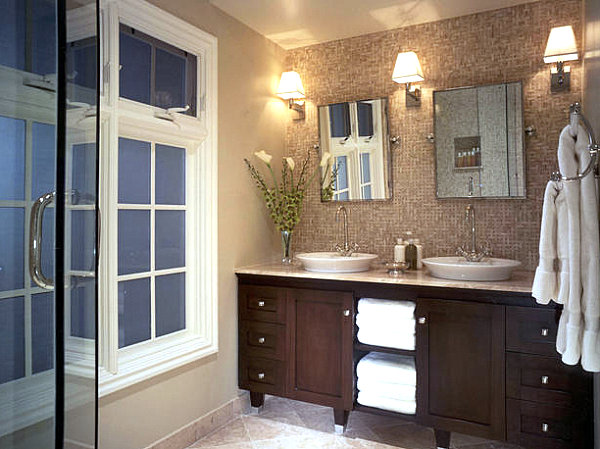 Sconce lighting is very popular in bathroom remodels because they are easy to install and provide ample lighting for your make up or hair styling needs.  This example uses some unique lamp shade style sconce lamps over a vessel sink vanity.  It's a great look.  From Decoist.