Adding outdoor lighting, whether in front of your home for curb appeal, or to outdoor living spaces can make summer evenings spent at home delightful. There are many many options for landscape lighting and accent lighting. But here I wanted to assemble a list of mostly DIY lighting ideas that can make your outdoor living space magical without breaking the bank.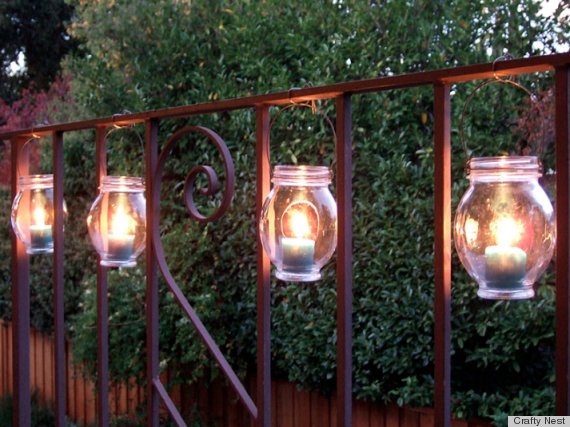 A simple example outdoor candle lanterns made from jars.  There really is nothing like candlelight to make your outdoor space relaxing and inviting. 
LED Torch lamps are inexpensive and can be found at most home improvement centers.  But rather than just sticking them in the ground, try creating arrangements like these in garden pots for an extra special effect.
Sometimes just a simple floor lamp can provide a cozy outdoor atmosphere for ready, dining, or playing a late light game of cards with friends.
And of course there is an array of outdoor candle lighting fixtures like these available from places like Pier 1 or other home improvement stores.  They're inexpensive and can be moved around as needed in our outdoor spaces.
Battery operated LED lighting products have transformed outdoor lighting.  No wiring required, you can hang them anywhere, and they are available in an array of colors.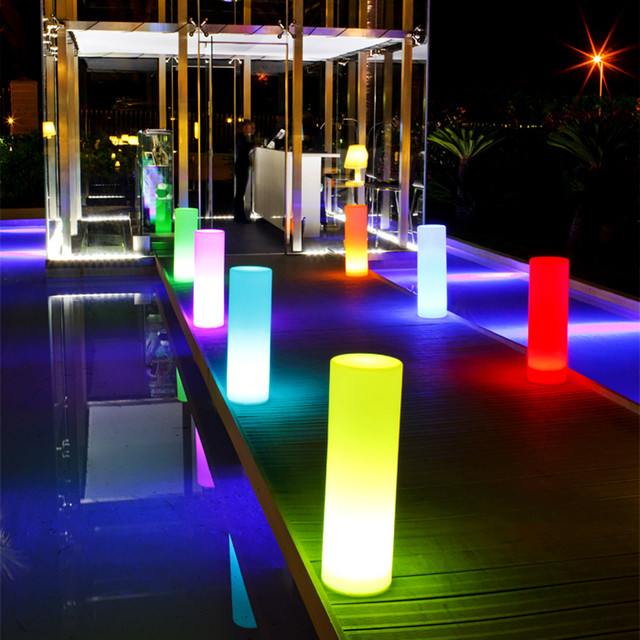 A little bright for my tastes, but here's another example of battery operated LED lighting for outdoors.  LED Lighting can add a festive flare to any event by bringing in bright colors.
Orb Lights have become hugely popular.  LED operated, they are wireless and can be placed anywhere to accommodate your outdoor plans.  In this example there orbs are even water proof.