In keeping with the rustic theme of our home I wanted to find some clever ideas for rustic style lighting that would work in the bathroom areas. Here are a few that I found.
This is a nice example of combining the look of rustic hewn stone and simple pin cabinetry.  Despite the polished look, this is a relatively easy DIY project without any complicated installations.  From VizDecor.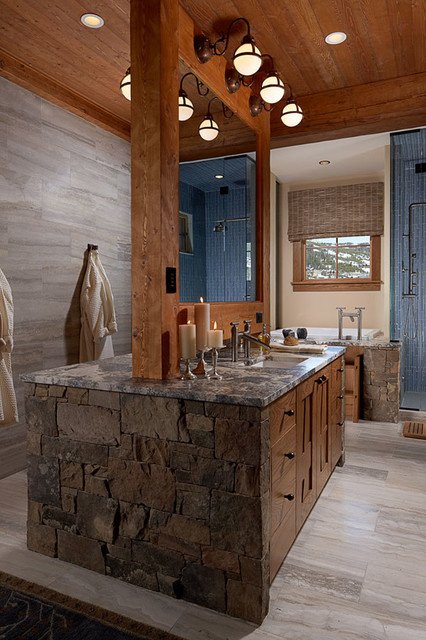 Again, I don't like the over look of this decor, but those globe sconce lamps are great. From Houzz.
This would be a very cool, easy weekend, DIY bathroom lighting project. Source.
I really like this overall look, though it doesn't quite fit a rustic theme.  The industrial style sconce lamps and trough sink is really more suited to perhaps a public resort area. Source
This is a totally doable DIY lighting job with just some old plumbing fixtures and painted safety light cages.  In fact I think this might be a project I tackle for our foyer.  Source
This is a great example of contemporary materials to create a rustic of cabin like atmosphere.  The dual lampshade sconces really complement the wood paneling, the free standing tub, and faux barn wood cabinetry.