I like the idea of using pallets to create outdoor living spaces.  It fits nicely with our rustic theme and it's cheap.. which I like.  In most projects like these you'll find the most expensive component are the cushions and pillows.  Rather than spending the money on new cushions, check your local yard sales or flea markets.
I love the simplicity of this idea.  The pallets are just stacked with minimal cutting and secured together with backrests.  The 'coffee' table likewise are just stacked pallets secured together. From Upcycled Wonders
This is a more involved project but the end result is some very nice and durable yard or deck furniture.  This particular design could be constructed from reclaimed pallets or you could build it from purchased lumber, although at a higher cost of course. From Wooden Pallet Furniture.
This theme is very similar to the earlier one.  Constructed from cut and stacked pallets, it provide a very nice outdoor gathering space.  The blue cushions could be purchased, or if you can find the foam blocking alone, make your own cushions and save. Source.
Another spin on the same design, this one includes a lounge chair and additional end tables or serving tables.  All very simple construction requiring minimal tools and just recycled pallets. From Icon Home Design.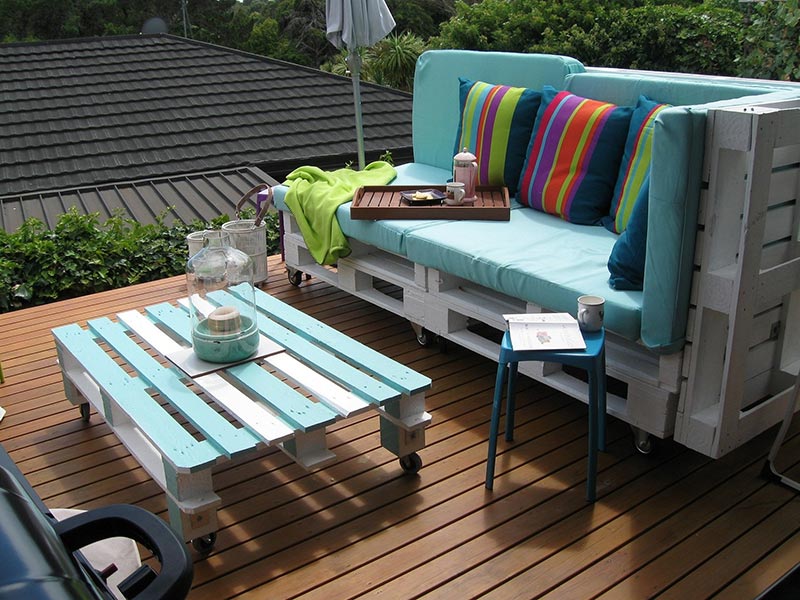 This patio pallet furniture is about as simple as you can get, in fact, the painting will take more time than the construction.  Stacked pallets for the bunch base and vertical pallets positioned to create a cozy sitting area.  The table is created from a single pallet with additional blocks and casters for feet.  From Quiet Corner.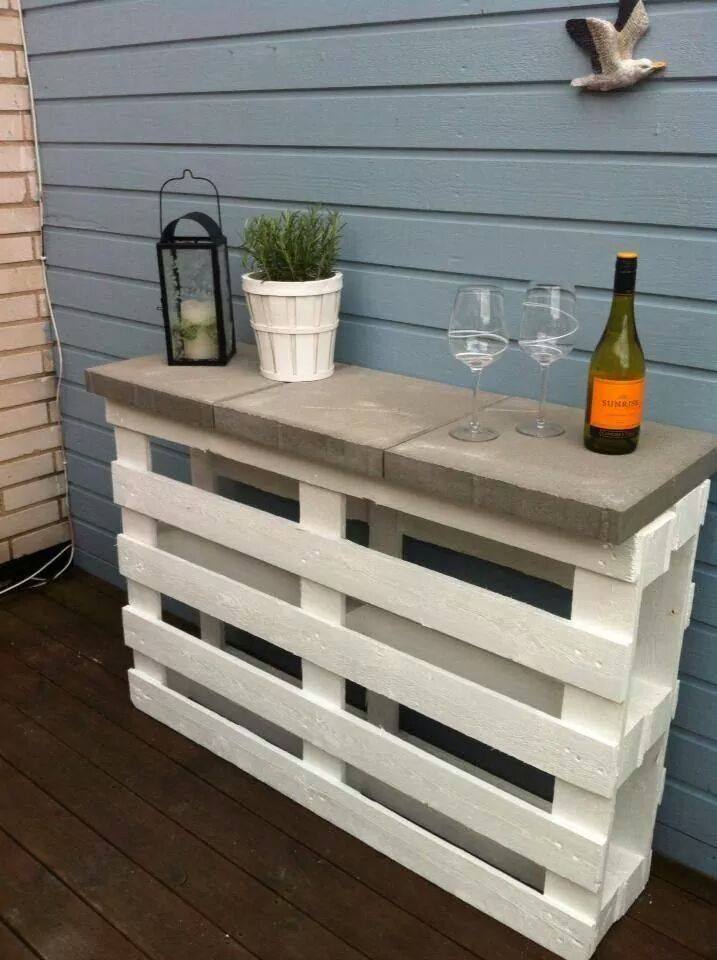 A couple pallets three concrete garden pavers, and a couple coats of paint are all that's required for this DIY pallet wall table.  Take two pallets and face them bottom to bottom, then secure with screws.  Your done… From Fab Art DIY
I love everything about this DIY patio pallet bar.  The choice of colors and materials work perfectly. The stools and bar base are constructed from recycled pallets and the bar top and stool tops are 2×8 and 2×4 lumber.  Barn wood would work well too.