I love the idea of taking an old garden or storage shed and converting it to outdoor living space, or even just into a funtional gardening prep area.  They bring whimsy and character to any property.  Here are a few of my favorite ideas I've found.
Great example of an old shed converted to a garden shed with reclaimed doors and church windows. It retains it's old rustic appears yet is funcitonal and unique. From Homedit.com

Here's an old garden shed that has been converted to a small cabin for living space. With a new metal roof, windows, porch and a fresh coat of paint, it's now suitable as studio space or perhaps even overnight sleeplng space. From Homedit.com.
Great use of a simple gazebo DIY kit. With the additional of tip out windows, this converted shed makes a great place to relax in the afternoon with a cup of coffee or tea and enjoy your garden.
This is an awesome example of an old shack that has been transformed into a fully funcitonal gardening shed with just the addition of reclaimed doors and window. I love all the surrounding gardens. From Shed Plans
Here's a full blown conversion. These owners took an old shed structure and transformed it into a beautiful cottage. Complete with sitting and sleeping spaces. From Fissbiz
Perhaps my favorite garden shed conversion.  These folks kept the original rustic appears of this old storage shed and installed windows all around.  Complete with a stone patio and surrounding gardens, who wouldn't want to spend an afternoon here with a good book and cup of cofee? From The Architecture Insight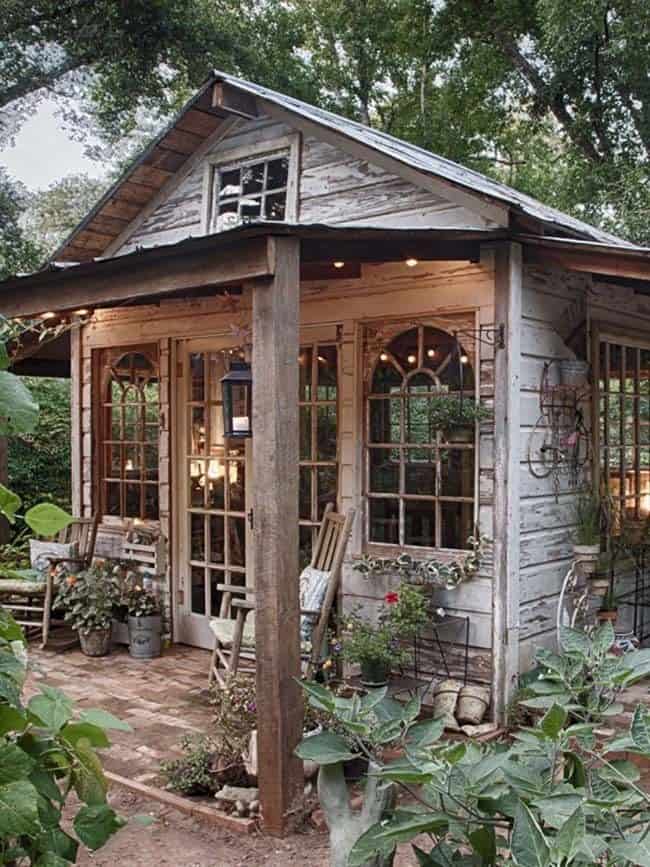 This garden shed blends in perfectly with it's surrounding gardens.  It's a simple structure with minimal windows, but is fully functional for use as a potting shed or garden storage area.  From HGTV.com