If you have the time and the space to do the work, creating furniture from reclaimed materials, or repurposing old furniture for new uses can be very satisfying.  You can create unique furniture pieces at a fraction of the cost of purchasing them.
Here's a great example of old reclaimed barn beams used to created a glass top dining from table and stools.  A relatively easy project from any wood working craft person.  Source.
I love this idea.  Creating a outdoor food prep station literally out of a couple of wooden pallets.  This is an easy Saturday afternoon project with minimum tools and almost no cost. From DIY Furniture Ideas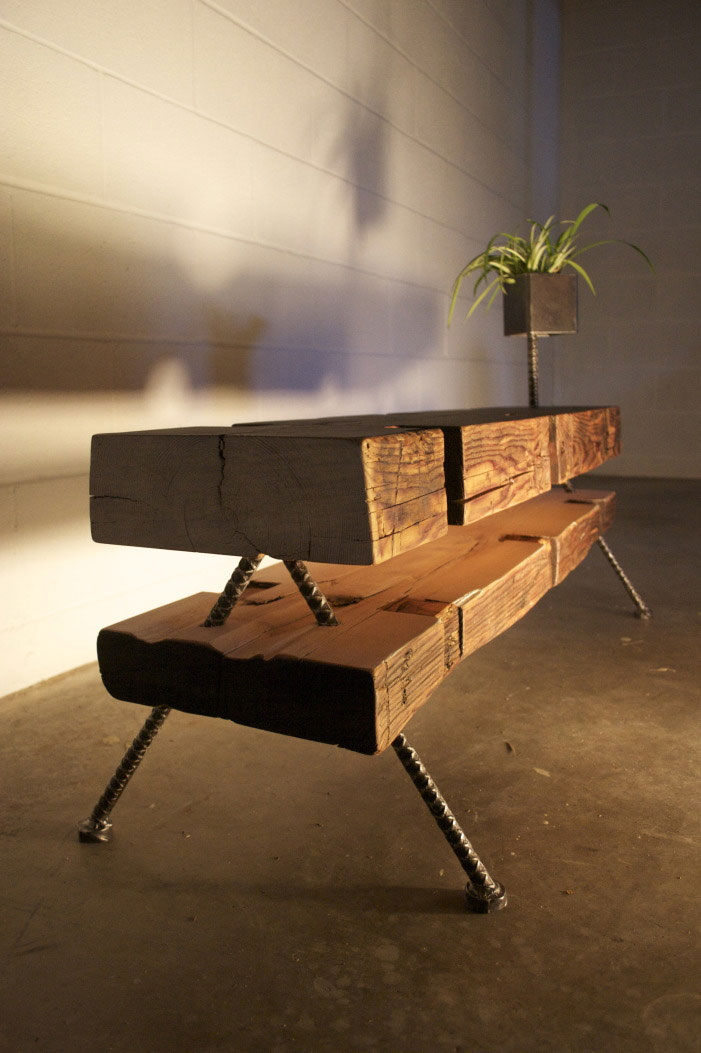 I love this.  A unique rustic but stylish wall table made from a couple lengths of discarded barn beams and four pieces of rebar.  If you are lucky enough to acquire the discarded barn wood as scrap, this project would set you back just a few dollar and consume an afternoon.  From Digs Digs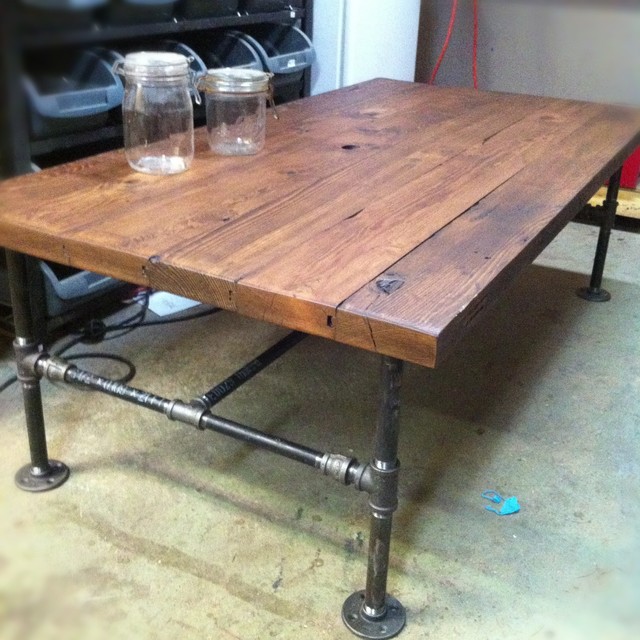 Another super simple DIY table project using scrape iron plumbing pipe and discarded wood planks.  The wood top can be made from discarded flooring, old butcher block, barn beam wood, or almost any other wood materials. Source
Pretty common, but I'm including this as a reminder with an endless supply of discarded dressers and chest of drawers, there are endless possibility to repurpose them for other uses.  In this example a new paint job and storage baskets create an attractive living room piece. Source.
Is this fun or what?  A few discard, heavy duty industrial spring coils for stools and industrial mercury lamps for overhead kitchen island lighting.  The mercury lamps have no doubt been changed out with standard incandescent lights. Source
This would take a bit more work to do it well, but I love the idea.  A 3-4 chest of drawers converted to a sitting bench with storage.  I'm not wild about the colors chosen here, but something dark would be awesome. Source.
This is a DIY furniture project anyone can do.  A little sanding and refinishing.  The use of blackboard paint makes it stupid simple to create fun furniture you can draw on or use for notes to the kids. Source.
Another super simple DIY reclaimed furniture project.  Seems you can find a tired old chest of draweres discarded at the end of a driveway almost anywhere these days.   Give them a fresh coat of paint and apply decals, or use stencils to apply decorations, and you have a very eye catching one of a kind piece of furniture.