In a recent post on Brilliant Earth, they reviewed the trends they are seeing for 2017 in popular engagement ring styles.  The big flashy ring designs are not as popular as they once were but couples still look for unique styling that sets a ring apart.  Here are some of the most popular styles trending for 2017.
Infinity Rings
Rings bands featuring intertwining strands of metal and diamonds are one of the most popular trends.  These rings symbolize the couples intertwining fates and infinite love.
Rings with Unusual or Surprise Details
Even though flashy rings are not as popular, couples still want the little details that set a ring apart from others.  Double prong settings, gallery diamonds, and special filigree for example, are very popular, even with a simple band.
Distinctive Diamond Halos
Halo designs featuring traditional round and cushion shaped diamonds have been very sought after for the past few years, perhaps because of their romantic vintage-inspired look, or because of the way a halo of accent diamonds makes a center diamond appear larger. Now we see couples craving more distinctive halo designs, such as the curvy and ornate halo of the Cadenza Ring, above, or the multi-dimensional halos of the Cordoba Ring and the Circa Ring, both of which feature stunning side views.
Three Stone Styles
A three-gemstone engagement ring is a timeless look, and a symbolic one too—the three gemstones are said to represent a couple's past, present and future. 2017 sees a trend toward fresh, updated takes on this classic look. For example the Three Stone Petite Twisted Vine Ring offers a sculptural, nature-inspired take, and the Prelude Ring combines the sought after halo design with a classic three-stone style. Couples who crave an elegant and understated three-stone design might love the Selene Ring, above, which features a delicate, gently tapered band and chic claw prongs securing the center gemstone.
Delicate Silhouettes
We've seen a return to classic elegance as couples opt for thin, petite bands, both in engagement and wedding rings. Often these rings feature accent diamonds that add subtle shimmer and make the center gemstone really pop, as seen in the Lissome Diamond Ring, which features scalloped pavé diamond accents on a thin band that rises to a cathedral setting.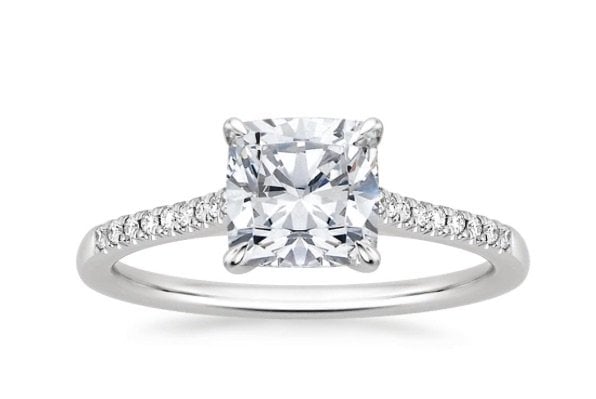 Rose-on-Rose Rings
Rose gold has been beloved by brides-to-be in recent years, and now those who adore this warm and romantic look are taking it a step further and combining gorgeous morganite gemstones with rose gold settings. Morganite is a semiprecious gemstone with a warm pink hue and sparkling clarity, and when set in rose gold it creates a breathtaking effect that reflects your rosy outlook on your future together. Rose gold halo engagement ring settings, such as the Morganite Lotus Flower Ring in rose gold, above, add dazzling diamonds to create a bit of contrast, while solitaire styles, such as the Morganite Leonora Ring in rose gold have a gorgeous all-rose look that draws attention to the detailed setting.
Geometric Designs
While engagement rings with feminine curves will always have devoted fans, many of today's couples are captivated by rings with sleek and contemporary lines and a geometric aesthetic. 2017 sees them choosing designs such as the Lucy Ring that surrounds the center diamond with a diamond shaped halo that's at once ethereal and angular, the Flair Ring which embraces the center gemstone in a frame of glittering scalloped pavé diamonds, and the Caldera Ring, above, which surrounds the center diamond in a hexagonal frame, giving a geometric look to a classic six-prong solitaire.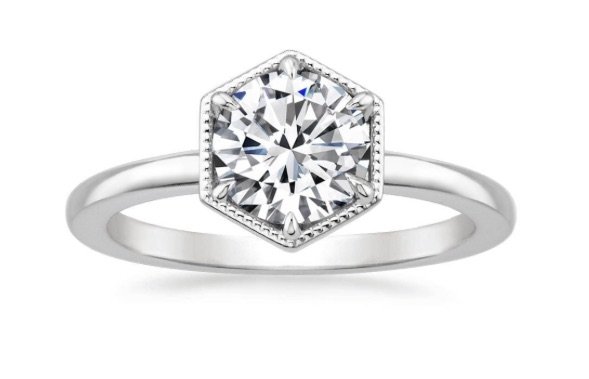 Jewel Toned Rings
A few years ago it would have been an untraditional choice, but in 2017 many people are falling for joyful multi-colored rings. These color-loving couples might choose sapphires set in rose gold, such as Sapphire Fancy Halo Ring in rose gold, and some even set sapphires and emeralds side by side in rose gold in the Sapphire Willow Ring with Emerald Accents. Couples who adore blue often create a gemstone ring that combines sapphires and aquamarines for a multi-tonal look.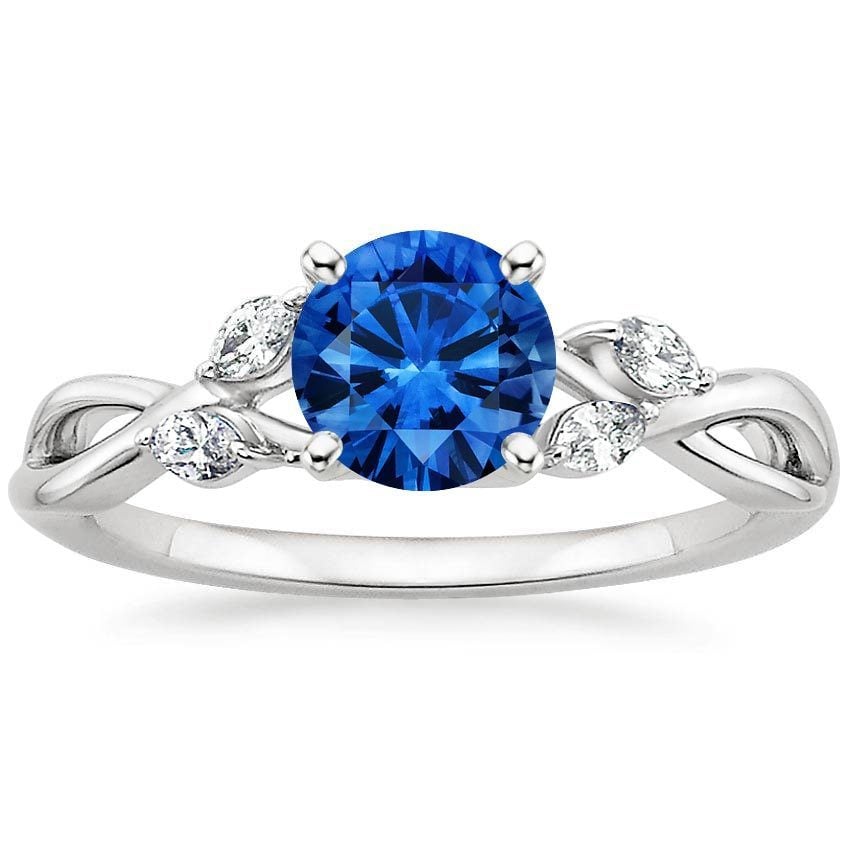 Fancy Shaped Accents
Although shimmering pavé accent diamonds remain a favorite feature on the shoulders and shanks of engagement rings, in 2017 we see a growing number of couples opting for fancy shaped accent diamonds, such as baguettes, trillions, and pear-shaped diamonds. With their rectangular shape and step facets, baguette accent diamonds possess an elegance that gives rings a classically beautiful look, as seen in the Tapered Baguette Ring. Triangular trillions like those that dazzle in the Esprit Ring and the delicate pear accent diamonds in the Aria Ring, above, lend an extra element of eye-catching shape to a ring.
Claw Prong Settings
Claw prongs narrow to a super-fine tip (hence the name) and minimize the precious metal needed to secure the center gemstone, showcasing more of its beauty.  Claw prongs and "split-claw" prongs (seen in the Reverie Engagement Ring, above) are very en vogue because they add a special designer detail to a classic style.
Nature Inspired Designs
Ring settings that evoke vines, leaves, and buds using wispy, naturalistic designs remain very sought after, especially with couples who love the outdoors. Our Willow Engagement Ring features marquise-shaped "buds" of accent diamonds.
Fancy Shaped Gemstones
While traditional round brilliant cut diamonds remain the most popular shape for center gemstones, more and more couples now opt for distinctive fancy shapes, such as square cushion cut diamonds and elongated fancy shapes, such as oval and emerald cut diamonds. The Waverly Engagement Ring makes an elegant showcase for an oval cut diamond. White gold princess cut engagement rings are ever-popular.
Non-Traditional Designs
While today's brides-to-be love the tradition of engagement rings, they don't always want the rings to look traditional. Many women are opting to make a statement, to express their unique personalities or aesthetics. These couples usually seek custom designs or non-traditional rings involving elements like black rhodium, rose cut diamonds (as seen in the Rosebud Ring, above), and less traditional colored gemstones such as aquamarines and morganite.
Unique Vintage Rings
The romantic rings in our collection of vintage and antique engagement rings are beloved by couples looking for a unique piece that tells a story. A few years ago diamond rings from the Edwardian era were especially in demand, but we're finding that couples are now drawn to a broader swath of styles, especially Art Deco engagement rings, as well as distinctive pieces from the Victorian and Retro eras. Couples love both the old-world feel of these designs and the chance to weave a vintage piece into their own story.